We asked Great British Bake Off star, Pact subscriber and all-round legend, Selasi Gbormittah to share his very own chocolate & coffee cream cake recipe with our community. It's simple to make and the marzipan paste gives it a festive edge. Rustle this cake up for your Christmas party centrepiece.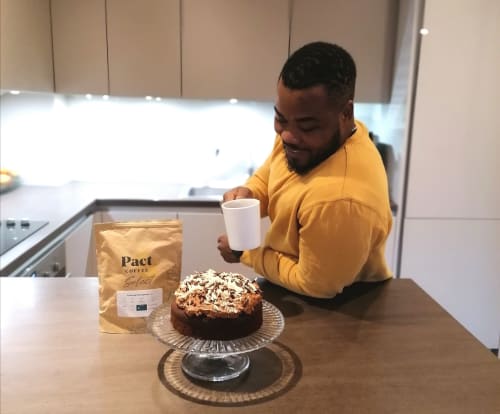 Cake Ingredients:
3 large eggs
150g caster sugar
120g unsalted butter, melted
180g plain flour
130g whole milk
1 tsp baking powder
40g cocoa powder
140g marzipan or almond paste
80g dark chocolate, chopped
1 tbsp Pact Coffee beans
Chocolate & Espresso Cream Topping Ingredients:
30ml shot of Pact Coffee espresso
10g coffee beans from earlier, ground into to a powder
300g double cream
20g white chocolate, chopped
20g dark chocolate, chopped
120g dark chocolate, melted
Method:
Warm the coffee beans and milk together in a saucepan, let them infuse and allow to cool.
Preheat the oven to 170° fan. Grease and line a 7in cake tin.
In a mixer, whisk the marzipan or almond paste and caster sugar until broken down.
Add in the eggs and whisk briefly.
Remove the beans from the cooled coffee milk. Rinse and set the beans aside to dry for later use.
Add the liquid to the milk mixture.
Add in the flour, cocoa powder and baking powder and whisk.
Fold in the melted butter and chopped dark chocolate.
Pour the mixture into the tin and bake for 25-30mins (or until baked through.)
Once baked, allow to cool.
To make the topping, mix together the chocolate and espresso shot and set aside to cool.
Whip the double cream to soft peaks and fold in the melted and chocolate espresso mixture until fully incorporated.
Spread on top of the cooled cake and decorate with chopped white chocolate, dark chocolate and sprinkles of some of the ground coffee beans.
Tada! Enjoy.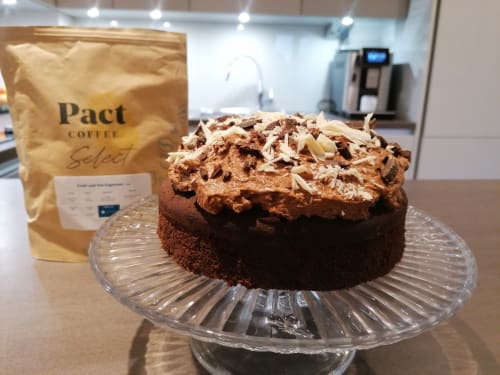 Read more: