Loyal subscribers of our monthly newsletter will be used to receiving Pact team recommendations on everything from the latest podcast to a bucket list hike. What you might not expect, however, is for us to come forward and share our favourite coffee brands. Y'know, conflict of interest and all.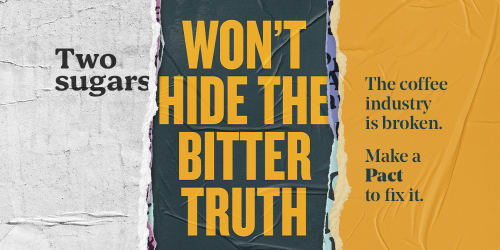 Pictured: Our latest advertising campaign is currently making its way around the streets, airwaves and stations of London.
As you're probably aware, Pact's on a mission to shake up the coffee industry with better pay for farmers, better practices and better quality coffee. Paying farmers 65% above the Fairtrade base price (on average) and bringing delicious speciality coffee to your lips is our bread and butter. That much is known. But the truth is, we can't change the coffee industry on our own and it would be foolish to think we could. 
While the commodity coffee market and 'Big Coffee' have a lot to answer for, there are a whole host of speciality coffee companies who are making great efforts to change the industry from the inside out. We want to use our platform to recognise them because we know that ultimately, the more people that make the switch to ethical coffee, the more the coffee industry can change.
So, in no particular order, our favourite speciality coffee roasters are…
Pact's favourite UK speciality roasters and cafes
Assembly Coffee
Change Please
Curve
Colonna Coffee
Dear Green
Glen Lyon Coffee Roasters
Hard Lines
Hasbean
Intermission
Kiss the Hippo
Monmouth Coffee Roasters
Notes
Origin
Ozone Coffee Roasters
Peter James
Redemption Roasters
Rosslyn Coffee
Square Mile
Union
All of the roasters and cafes listed above are taking leaps to make positive change in the industry and make coffee better for everyone. Try them, love them. Together, we can make the coffee industry a fairer, more sustainable place. 
Pact's Sourcing Policy & Code of Conduct
While we're on the subject of full disclosure, we'd love for you to check out our Sourcing Policy and Code of Conduct which we made available to everyone earlier this year. These policies open the door on exactly how we source speciality coffee and share the best practices we follow when working with farmers and suppliers. Our sourcing policy and code of conduct set out a huge part of how we work and are there for anyone to use, to commit their own business to and use to hold their own supply chains to account. By publishing these documents, we hope it will encourage others to follow suit.
Pictured: Orlando Babativa of El Paraiso Farm in Colombia
The roasters mentioned within this blog are by no means an exhaustive list, they are simply the first UK brands that sprung to mind when we thought about our faves. If you'd like to know more about what to generally look out for when choosing an ethical coffee roaster, head to Page 26 of our latest Transparency Report.
Read more:
-Pact's 2020 Transparency Report